"I
cannot think of any need in childhood as strong as the need for a father's protection." -
Sigmund Freud
Cool Fathers Day Certificate...
Click on the small certificate below to print out a full-sized 'Greatest Father Award' certificate!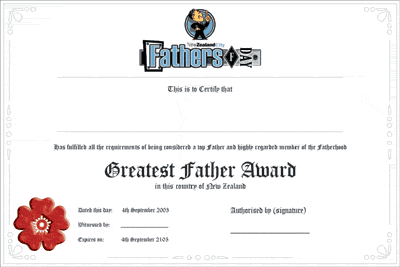 Famous Father Quotes...
When I was at school we had to walk home in the snow!
Go ask your mother!
Just wait until I get you home!
No of course I'm not crying - there's something in my eye
My father used to tell me...
Don't make me stop this car!
Money doesn't grow on trees...
Do you think I'm a millionaire?
Can't? There's no such word as can't
Those dishes won't dry themselves
If you're cold, put a jersey on!
When I was your age....

"A man knows when he is growing old because he begins to look like his father."
Gabriel García Márquez (b. 1928), Colombian writer